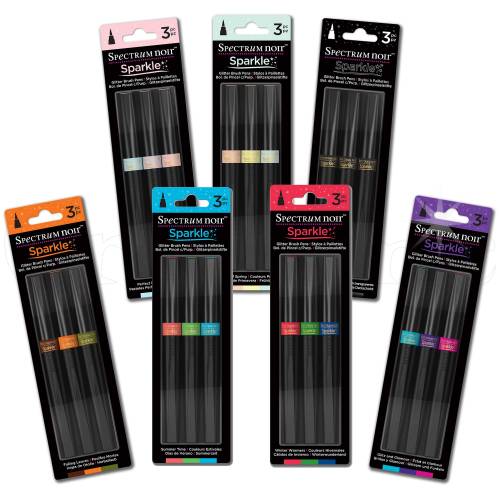 Spectrum Noir Sparkle (3pk) - Clear Overlay
£12.99
Spectrum Noir Sparkle Pens 3 pack called Clear Overlay
Add a touch of sparkle to your creations!
Perfect for all things glitzy and sparkly
Please note, photo shows the full range of sparkle pens, this item code if for the 3 pack set of Clear Overlay only.
Add a touch of creative Sparkle with these fabulous glitter pens from Spectrum Noir. Available in a range of on-trend, seasonal colours containing fine glitter micro-pigment, and featuring a flexible nylon brush for accurate, mess-free application, these pens are perfect for colouring, writing, embellishing, accenting and more! There are 18 shimmering colours plus a 'Crystal Clear' glitter topcoat available for applying over existing colour. Available across six themed three-piece colour sets. You can also buy these fabulous pens as two twelve-piece value sets that come complete with a free storage case and feature a limited edition bonus colour.
Use the Clear Overlay pens on top of existing colour to create a gorgeous sparkle!
To use your Spectrum Noir Sparkle Pens:
Remove lid and yellow seal then tighten barrel to break seal
Shake pen vigorously to mix glitter and ink
Gently squeeze the pen until ink moves into the clear chamber
Stop squeezing and brush onto scrap card until ink floods the bristles (can be encouraged with gentle squeezes if required)
Give a gentle shake (with the cap on) from time to time to keep ink and glitter well mixed
May need gentle squeezing if left unused for an extended period of time
DO NOT dip the Sparkle Pen into water as doing so will affect the formulation
Ages 14+