Dragonfly Dreams & diamonds - Stamped and stencilled CAS card
Posted on
Im joining you today with my 4th blog post since I began. Sheesh! Where does the time go?!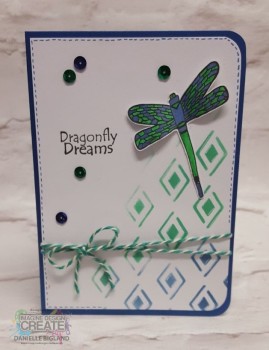 I've made a card using the 6x6 diamond stencil. Now, I'll be the first to say, im not (or wasn't!) The biggest fan of stencils. Honestly, they scare me. I've had to push my fears aside and throw myself into it. You know what? I had immense fun!!! As you may have seen by now or will certainly come to see, my style is typically clean and simple. I thought CAS and stencils didn't work well together. Oh contraire my friends. Oh contraire. I got to use so many techniques I hadn't previously and loved the outcome of all. Now, my only fear is spiders and I'm looking forward to working with stencils again in the future ????
So this was a very straightforward technique which all levels of ability could easily master.
Supplies
DragonFly Dreams A6 stamp set (also available at A7 size)
White 7 blue cardstock
Distress Ink (chipped sapphire) & Distress Oxide (lucky clover)
To make
1.So, the usual - take a card blank (in this example was a blue pearlised blank) and cut a piece of card marginally smaller all round. Round the outside corners of both the card blank and your mat using a tool such as a punch. Pop the card blank aside whilst we work on the card.
2. Take your desired colours (here I used Distress Inks in Chipped Sapphire and Lucky Clover) and your blending tool. I normally use the wooden blending tools which you attach the foam pads to the bottom of but felt the softer, more malleable sponge was better suited to stencilling. Start with the first colour, blend through the stencil on the bottom right of the mat. Switch colours, blend to finish the bottom right hand corner.
3. The embellishment on this card was the gorgeous butterfly from the Butterfly Dreams a7 stamp set. I stamped the Dragonfly and coloured the details using gel pens. (I knew I'd find a use for them!) This was fussy cut and adhered using foam pads.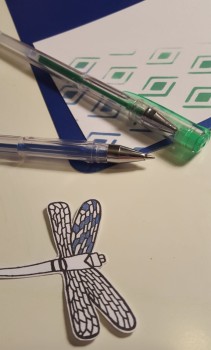 4. Add some faux stitching around the end of the mat using one of the gel pens used to colour the Dragonfly. Normally, this detail would be something I'd leave until the end but as I planned on using foam tape to adhere the mat to the card, it's best to do this first so the mat doesn't bow and bend.
5. Wrap some coordinating Twine around the mat, tying into a bow on the right side so as to allow for as much as the stencilling to be seen.
6. Go ahead now and attach to the card blank uding foam tape and finish by adding some coordinating sequins to finish.
If you're scared of stencils like I was, give this a go! It was super easy and a really great place to start.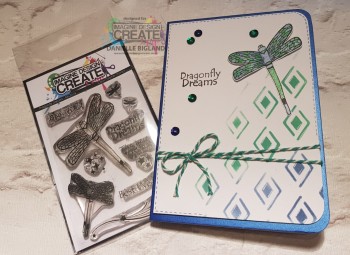 Until next week,.
Lots of love
Dani
Xx