Kids Creative Parties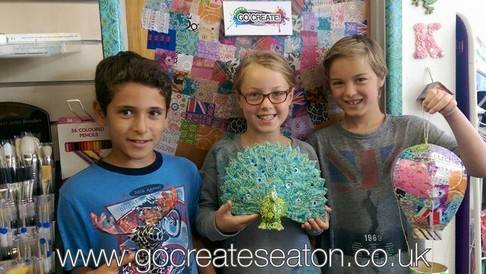 Creative Parties
It's as easy as 1 2 3, to book an Imagine Design Create Party
We are located at 30 Queen Street, Seaton, Devon, EX12 2RB
1. Choose a date & time Parties can be booked for any day of the week depending on availability
2. Choose an activity Choose one of the options from the list below or contact us for a quote for a bespoke party. Most options can be adapted to suit any age child. We provide the host, materials, aprons etc and we clean up the mess!
3. Choose what extras you'd like to include,
Room hire for 30mins to have party food supplied by you - £5
Picnic Party Box supplied by us £4.99 per child (food choices to be arranged in advance)
Party Bags (inc sweets & creative gifts, we do not use cheap plastic toys!) - £3.99 per child
Personalised Sweet cone £1.50 each
Bronze options from £5 per child (30mins / extra 30mins if having food)
Arty Party - A junk modelling party designed for children aged 2yrs - 5yrs
Silver options from £8 per child (45mins or 1hr depending on child age range / extra 30mins if having food)
Jewellery making : create a selection of jewellery using our beautiful beads & charms.
Decopatch : choose from our selection of small items to decopatch and embellish includes animals, plaques & more (upgrades to large items available at cost) *This is our most popular party!
Fabric purse or mini bag : decorate using our fabric paints & embellishments
Papercrafts & stamping : have fun stamping and decorating cards and pictures with our exclusive stamp range
Gold options from £12 per child [1hr 30min]
Canvas tote bag : design and decorate with paints & embellishments
Art Journaling : decorate an art journal cover and start on some art journal pages (includes A4 art journal)
Canvas Art : create a mixed media piece of canvas art using a selection if materials
Stamping : create cards or scrapbook pages with our exclusive stamp range & choose an A5 stamp set to take home with you!
If you would like us to theme the party we can do so for a small additional charge depending on the theme, please contact us to discuss.